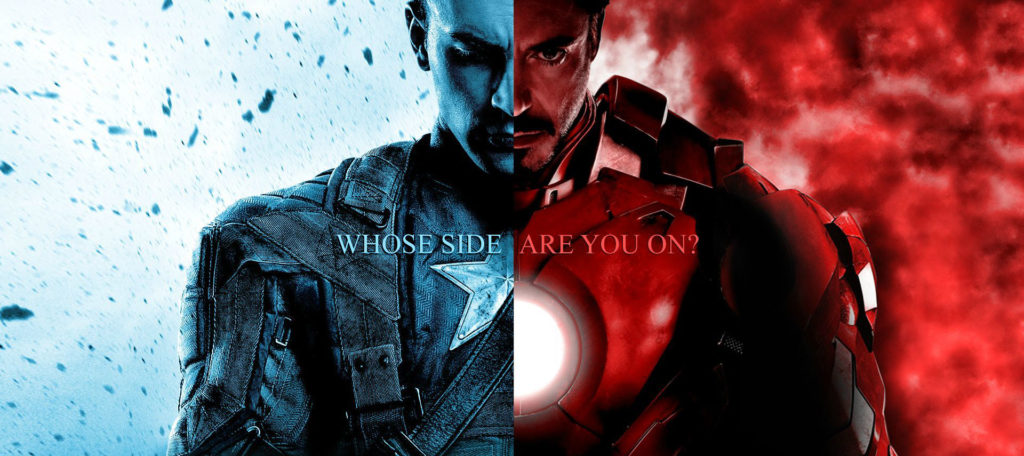 I saw "Captain America: Civil War" last night and there's lots of things I could say about the movie. I loved the action, the performances, the dialogue and especially the new characters that are now in the Marvel Universe. I highly recommend seeing the film as one of the most fun and interesting Marvel films to date. But apart from all that, Civil War has got me thinking lots about one of the big issues central to the film – the pros and cons of big and small government.
Now, I don't think this is a spoiler as it is revealed in the trailers and all the advertising, but the tension in the film centres on legislation that is proposed to regulate superheroes and their powers. It is called "The Sokovia Accords" with the subtitle of it being a "Framework for the registration and deployment of enhanced individuals". Basically, the idea is that superheroes are expected to either retire or sign the document and if they sign then they can't do any superhero work without the permission of an international panel that will monitor them, regulate them, send them out when required and prevent them from going out when deemed necessary.
Now, I was very impressed with how the movie presents the argument that this is a good and necessary thing, showing the destruction and death that many of their past actions have caused. Sure they were trying to save the world, but they ignore laws, international borders and in the end innocent people died due to their actions, and sometimes (like in the case of Ultron) they were saving the world from a threat that they themselves created.
Captain America has some concerns though. He is worried about the restriction of their personal freedom to not only fight evil, but also to make choices for themselves about how to regulate their power. He is also skeptical that a government panel would always make the best choice in how to use and regulate superheroes. As he says, "it runs by people with agendas and agendas change… If we sign this, we surrender our right to choose. What if this Panel sends us somewhere we don't think we should go? What if there's somewhere we need to go and they don't let us? We may not be perfect but the safest hands are still our own."
Now, for a series of movies that are often simply a bit of popcorn entertainment, it was interesting to see one that tackled a debate about political philosophy that is very relevant for our world today. The debate is about the idea of small vs big government.
SMALL vs BIG GOVERNMENT
If you've never heard of this debate before, it's basically asking how much control, influence, involvement or power should be given to the government and how much should be given to individual citizens or private organisations (like businesses, churches, families, private schools etc.).
A small government approach is one where the government has as little involvement as possible in the affairs of its citizens. Small governments may still provide basic, necessary services (military defense, police, fire, water, electricity, sewerage etc.) and they may also provide services like welfare for those that cannot obtain work or health services, but the weight of the power and responsibility rests on individual citizens and organisations.
Big government, as you can probably guess, is the opposite approach. The government has a substantial level of involvement and regulation, and the weight of power and responsibility does not rest on the citizens but the government that presides over them.
Now, each of these approaches or politics philosophies have their pros and cons. Small government focuses on people's individual libertarian rights to live their own life, raise their own kids and express their own values. Generally, most individual people want small government because they don't want to be told what to do, especially by a government that may not share your values. Generally, small governments create more prosperous countries as they aim to encourage and empower enterprise and individual creativity. The problem with small government is that people's individual values can be pretty selfish. Small government allows for the rich to get richer with no concern for the poor if they don't want to have any. Also, small government creates a society of mixed values and behaviours, which means that tolerance is very important and social harmony can be challenging.
Big government has its own set of challenges. On a positive note, big governments aim to prevent the poor from getting poorer and the rich from getting richer, and through government regulation and oversight aim to create a more equitable society that is free from the individual abuses that small government can bring about. The problem with big government is that it can be just as abusive as individuals. The big government approach assumes responsibilities that, under a smaller government, are distributed to individual citizens. This often involves raising taxes and taking power and freedom away from its citizens, which can kill enterprise and may encourage bigger businesses to take their industries off shore where they can prosper in a country with less restrictions. Also, in an attempt to create social harmony and restrict the values of individuals and businesses that it deems bad for society, a big government will inevitably seek to enforce its own set of values on society and it will have the power to do so. This may be ok if its values are good, but who doesn't believe that their values are good? As Captain America says in the movie: "it runs by people with agendas and agendas change".
Basically, both big and small government philosophies are wanting the same goal – they aim to help create a prosperous society where all citizens can flourish and where evil is restricted. They simply represent two opposite ends of the spectrum of how to achieve that goal. Small government primarily gives that responsibility to individuals and free enterprise and aims to make the government have as little power as possible, and big government gives the government the primary responsibility and consequently much more power and influence to achieve that goal.
BIG & SMALL GOVERNMENT IN MY EXPERIENCE
Personally, I believe, as most do, that a balance between the two is necessary. In regard to gun control for example, I am glad that I live in Australia which has taken a big government approach to the issue. Guns are extremely restricted and the only guns I know of anyone owning, are rifles used for shooting pests (like rabbits and roos) out in the country. This means that I also don't personally know of anyone who has been shot, either deliberately or accidentally, and Australia – with a population of over 23 million – in 2014 experienced only 230 gun-related deaths. The US in contrast, has a population of 316.5 million, which is 14 times the population of Australia, but in 2014, the US had 146 times the amount of gun-related deaths (33,599 deaths).
So when it comes to guns, I am happy that the government restricts my and others personal freedom to own, carry and use guns. The big government approach in this situation has literally helped lives to flourish and has created a better society for all citizens (except arguably for those who wish to own guns of course).
Another area of big government that I have benefited from is Australia's healthcare system. Although I may not agree with everything my healthcare tax dollars are put towards (abortion for example) I think we have a great system that allows pretty much everyone to receive the care they need. Important medicines (like the diabetes medication I take daily) is majorly subsidized and I can see diabetes educators, nutritionists and other health specialists free of charge because of this soft form of universal healthcare that we have. It's not without its problems, with the public system overrun and susceptible to overuse, but I am glad we have this semi-big government approach to this vital service.
So, I see the good of big government, but like Captain America, I also see its dangers. Captain America's concern in the movie "Civil War" is primarily about how a government body may have a different set of values to an individual citizen (or superhero) and how their increased power and influence may be used to serve their own agenda rather than the citizens themselves. Captain America suggests that the big government approach is a form of "surrendering our right to choose" and proposed some theoretical examples where this might be a problem: "What if this Panel sends us somewhere we don't think we should go? What if there's somewhere we need to go and they don't let us? We may not be perfect but the safest hands are still our own."
As a Christian, I am most concerned about the big government approach in its potential effect to and restriction of religious freedom. In a big government, if the government deems certain beliefs or values to stand in the way their particular view of what makes a "good" society, they may use their increased power and influence to restrict or even criminalize those beliefs. This may seem extreme, but it happens in many countries even today.
In 23 out of 49 Islamic countries, it is illegal to convert away from Islam and it is also illegal for non-Muslims to share their faith in such a way that they might encourage a Muslim to convert. In Malaysia, it is illegal to leave Islam in every state other than Negeri Sembilan. In this state you have to apply to the courts if you want to convert and the vast majority get denied. This is what it looks like when the big government approach takes over religious expression in a country.
This is not only a problem if a religious government gains control and establishes a big government. It is also an issue in socialist secular countries as well. In China for example, freedom of religion is majorly restricted to only five government-sanctioned religions. Of this five, there is only one protestant group allowed which the government has called the "Three-Self Patriotic Movement". It's teaching, appointment of leaders and ability to meet freely is tightly regulated and defined by the government. Naturally, they do this because, as every government does, they want their country to flourish and be prosperous for all its citizens, and they believe that complete freedom of religion would jeopardize that goal. Politicians of any country's government may have this concern, but it is only those that have a big government approach, that are afforded the power to be able to enforce it.
Now you may still think that examples like Islamic countries and socialist China are extreme and bear no resemblance to democratic Western countries, but in the last decade the threat to religious freedom has been growing. Generally, Western countries have been influenced by Christianity, which at its heart teaches that faith in Christ is something that must come freely and can not be forced or enforced (although I acknowledge at times in history this has been foolishly attempted by some rulers). Countries influenced by Christianity have therefore encouraged a separation of Church and State and have enshrined a freedom of religious belief and expression into many of its laws.
THE BIG GOVERNMENT TREND IN THE WEST
What we are now seeing, as Western countries peel off the Christian veneer and as more secularist politicians gain power and influence, is that governments are finding their values and the values of many religious people are starting to become more and more in conflict.
In London earlier this month, some Orthodox Jewish schools were investigated by government education inspectors and have now been told by the courts that they must promote "fundamental British values". Presiding judge Hugh Brayne said that the ruling was to ensure that students at the Jewish school would "be equipped to enter modern British society, which accepts as part of its diversity civil partnerships, gay marriage, families with same-sex parents and acceptance of transgender persons".
In the States, just last Friday, in a classic big government approach, the U.S. Department of Justice and the U.S. Department of Education issued a decree that told all public schools in the country that they had to provide access to toilet, locker room and shower facilities to students based on the gender they identify with rather than based on their actual sex. It wasn't a law (as schools are under the legal jurisdiction of the state not the federal government) but they have said they would withhold federal funding for those schools that do not comply.
In Australia, these issues are also very relevant with a similar thing happening with the Victorian Labor government pushing its values about sexuality and gender by enforcing the controversial sexuality education program "Safe Schools" in all public schools, whether or not school staff, parents or even students wish to sign up to the program. Also, an article last week in The Daily Telegraph calling to remove the tax free status of churches unless they meet the criteria of a government review. "What is necessary now is for all religious organisations to submit annual financial reports and for the government and Australian Charities and Not-for-Profit Commission to review their tax-exempt status." Now, as much as I think it is valid to stamp out any abuses of the tax free status by religious organisations, it is concerning if financial incentives were ever used to influence churches to align with the values of the government.
In regard to the push for reform of the legal definition of marriage in Australia, questions about big vs small government are integral to the debate. On one hand, a small government approach would suggest that individual citizens should have the freedom to marry however and whoever they choose, or to define marriage however they want. Unfortunately, the parties that openly support the change, such as Labor and the Greens, are generally also supportive of the big government approach. This makes many Christians very concerned that once the change becomes enshrined in law, they will not have the freedom of religion to teach what the bible says about marriage, sexuality and gender in Christian schools, Universities, public forums or possibly even churches. Such teaching will be deemed "hate speech" and "offensive" and a big government approach will see it potentially being legislated against in order to enforce conformity to the government's values.
A similar concern is felt for Christians involved in businesses that provide services for weddings, such as bakers, wedding planners and photographers. In a small government approach, these Christians would have the freedom to conscientiously object to supporting an event that they believed was morally objectionable based on their religious convictions. I'm still thinking through my position on this, but it is clear that under a big government approach, there will be no debate – they will have to conform to the government's new definition of marriage or they will be fined for discrimination. We have already seen this happening in some Western countries. Possibly the most well known was a little bakery in Oregon run by a Christian couple who informed a lesbian couple that they couldn't in good conscience make a cake for their wedding, and a court ordered they pay $135,000 to the couple for the emotional damage caused.
LIKE A TREE BESIDE THE RIVER OF TRUTH
If Western countries don't want to end up like the oppressive governments mentioned earlier, then they need to be wary of the way the big government approach is being used and accepted more and more. As I explained earlier, the big government approach can be at times helpful. It is definitely a powerful strategy which can use its influence for great good, but at the same time it can be used for evil and oppression as well.
That is why I think the movie, Captain America: Civil War is so interesting in today's climate. It raises a debate that some people don't realize needs to be debated. It points out the danger of giving the power over many into the hands of a few. It has made me think through where I stand – be it Team Cap or Team Iron Man. It's actually a hard choice at the start as both sides make their case quite well, but in the end, Captain America's concerns are shown to be valid.
Now, I may think through these issues and come to my own conclusion, but in the end, I see my own country slowly sliding towards a bigger and bigger government. With a federal election only a couple of months away, this debate could not be more relevant. I only have one vote though, and so my calling is to simply what I think is right. As the government gets bigger and uses its increased power to try to restrict views that it disagrees with, I will try to remember the words in the movie that inspire Captain America as he sat in that solemn church – words that, in the original comic, Captain America spoke himself:
"Doesn't matter what the press says. Doesn't matter what the politicians or the mobs say. Doesn't matter if the whole country decides that something wrong is something right. This nation was founded on one principle above all else: The requirement that we stand up for what we believe, no matter the odds or the consequences. When the mob and the press and the whole world tell you to move, your job is to plant yourself like a tree beside the river of truth, and tell the whole world – 'No, YOU move.'"
I don't know what saying "No, YOU move" might look like in my own circumstances, but I guess over time, I'll find out.  I also don't know exactly when a big government approach is better than a small government approach, and visa versa. It's very complex and I hope I haven't presented the issues in an unfairly simplistic way. I guess, the more I think about it, the more I feel I side with Team Cap and a small government philosophy. At least in a general sense. Small governments can seem cold and harsh to the poor and the weak, but at least they don't restrict individual citizens and charitable organisations from caring for those in need. It seems to me that a big government that is corrupt can do much more harm than a small government that is cold. But hey, what do I know? I'm no political analyst. I'm just a guy who saw a cool superhero movie. I'm just someone who is thinking through his position on all these issues. I'm just a Christian. I'm just an individual citizen.
(1299)