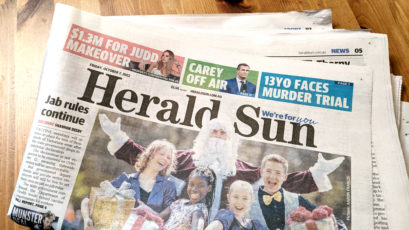 Recently, I posted a comment on Facebook defending City on a Hill and its lead pastor Guy Mason in the wake of the whole saga surrounding the Andrew Thorburn being forced to quit from his role as CEO of the Essendon Football Club due to his involvement with the church.
You can read my Facebook post HERE.
A journalist from the Herald Sun saw this and got in contact with me for an interview. Honestly, I think they were trying to get Guy Mason, or anyone from the church, but in the absence of that, they settled for someone who looked like he sort of knows them!
In the end, they only used a couple of lines from me, so I thought I'd share the whole interview here. I have edited out the irrelevant bits and I have kept the name of the journalist private as this is not meant to reflect on them at all. For the text below, I have used HS to represent Herald Sun.
---
Simon: Hello, Simon speaking.
HS: Hi, Simon. It's <> from the Herald Sun. How are you?
Simon: Very good. How are you?
HS: Good. Thank you. Thank you so much for agreeing to speak with me. I really appreciate it.
(They then asked me some questions to establish how I knew City on a Hill and Guy Mason. I told them that I had worked with them on rare occasions on some ministry opportunities, that I have had some contact with Guy over the last 10 years and that I was invited to read the bible at their church's Christmas Eve service last year.
We also talked about how I had made a Facebook post about Guy and City on a Hill, supporting them during this time.)
HS: I just wanted to ask you about, what you were saying about Christian views, particularly in your post and us the media, and the reaction to these of them being extreme views. But can you tell me from your own words, what prompted you to write this post that you tagged Guy in? And your comments on the whole issue and that would be really great, Simon. Thank you.
Simon: Sure. I think I posted that just to show when – initially, I didn't realize that it was sitting on the hill, that Guy headed up when the whole issue was happening over the last couple of days and then when I discovered I went, oh, wow, this is really close to home. I know this church, and the way it's being represented as almost like a fringe, extreme church with  fringe extreme views, whereas what they teach is what most Christian churches teach and what they teach is the classic Christian positions on issues of sexuality, on issues of the value of children in the womb, and of all people and those sorts of things. So, it was just interesting hearing it being described as extreme views, or even controversial, because within Christian communities, definitely these topics get discussed, but the positions that what I understand they hold are not really controversial amongst many Christians. And I do think sometimes the way snippets of their teaching have been used, I think it probably misrepresented them a little bit. So, in regards to abortion, often the thing that was getting quoted around every was that they equate abortion with, was it a concentration camp?
HS: The gas chambers. Yeah.
Simon: Yeah. Like, if you look at what they're saying, they were saying, like other atrocities or other things that we now consider, we'll look back on that in history and go, "How did we do that?" Which is still saying that an abortion is wrong, but it's not a one to one equating abortion with gas chambers. It's not saying it IS gas chambers. It's using it in the same category of things that we look back on, and think now are our evil and it was in that sermon – which I haven't heard the whole sermon to give its context – but even from the bits that I read, that was the point I was thinking being made. So, yes, I think sometimes people misunderstand either the positions of the church, or they think that those positions are being portrayed as really fringe ideas, but they're ideas that Christians have grappled with, and taught and thought about in the whole wider community of Christians, since Jesus began the church.
HS: I think what you said [in your Facebook post] was really interesting, that also just about the controversial and extreme and it's a sad indictment on the luke-warmness of the church in general, that this community could be thought of as extreme. From your view, just relating that to Andrew Thorburn resigning, what kind of precedent is that set for religious freedom and other people that sit on boards, or even other whether you're Catholic, Christian, Islamic, whatever you are because your church holds that view? What do you say about that?
Simon: Yeah, I think the biggest concern – and I've been chatting with Christian friends and it's raised a level of concern – is that the fact that it was a football club and he was given an ultimatum based on a question about sexuality. There's a whole range of things where I think it may be appropriate to say this person's right for this job or not right for this job. If there's a direct relationship between the job, what they're asked to do, and the religious view. I don't think it's super clear and cut, but it did make me and other friends go well, wow, our workplaces have positions on LGBT inclusion, and we're all supportive of LGBT inclusion as people feeling welcome and safe. But our theological position on what is or isn't sin in God's eyes, there's a concern about will that be something that jeopardizes our employment one day. And that's raised that question and discussion for a lot of Christians, I think. Is this – not to be Chicken Little – but to go, is this a precedent for how our culture expects that if you believe certain things about sexuality, and about the controversial issue of abortion, and the value of human life in the womb? If you sit on one side of these issues, will that jeopardize your employment, even in jobs that have nothing to do with abortion, or LGBT advocacy or things like that?
HS: Oh, absolutely. I was going to ask you for the story, when you said you've known and seen Guy for many years, and how many years would you've known him for?
Simon: Oh, possibly over the last 10 years, I think. So, we've had just different circles of ministry and so I know he's a man who loves Jesus, and he's a man of integrity and grapples with these things quite sensitively. He truly cares for people and doesn't treat these issues lightly.
HS: Yeah and so, I just wanted to ask you about what's been said about him? Obviously, he had his say, on Sunrise this morning.
Simon: Yeah, I haven't seen that yet.
HS: So, with the things that are coming out, what would you say to defend his character as you just said before, he is very passionate about sensitively bringing these issues to light. But what would you say about that?
Simon: Can you maybe give me an example of something that is being said?
HS: Yeah, for example, on sevennews.com.au, they've said Andrew Thorburn has declined to address his views on abortion and homosexuality. So, Kochi put the questions to him that they're saying he's gone head to head with a pastor, essentially, and all of that. Basically, with the fallout with Essendon, what I'm mainly asking is, with some of the public's negative reaction towards Guy Mason, what would you say to them, essentially about the kind of person that you know, from working with him previously? Do you think that is an incorrect assessment of people that are outraged by his beliefs?
Simon: Yeah, I definitely think that on this issue, you're either lumped in one camp or another. You either are celebrating everything to do with the LGBT advocacy, or you're hating. So, it's either one or the other. I was really upset by how Dan Andrews painted City on a Hill as hateful and bigoted, without even knowing. He was just presented with some ideas that someone had said, and he's supposed to be governing all of us and he didn't go "Well, wait, I need to actually follow that up, find out if that's true about this community of people, actually ask them what they believe." But he jumped to characterizing them publicly as hateful and bigoted. I thought that was really irresponsible of Dan Andrews, and not good governing. And so, I think you get put in one category or another, and the Christian position is nuanced. It's that there are beliefs about God's intention for sexuality and marriage, and human life in regards to abortion and things like that, and a commitment to love people, to understand that we're all messy, that we all have a journey, that we're all welcome. The message of the Gospel is that Jesus invites all to repent, all to receive forgiveness, all to come into relationship with God. No one is excluded from that invitation and the churches should display that. But also to be faithful to Jesus, we have to teach what the Bible says about sexuality and about life and marriage and those sort of things as well. So, I think if anyone actually sat down with Guy Mason, and had a coffee with him, they would find him to be a compassionate, loving, thoughtful, Christian man. It's sad if he's portrayed as hateful or bigoted.
(We then ended the interview and wrapped up the conversation. A couple of minutes later they rang back and said that City on a Hill had removed the 9 year old sermon that had caused some of the controversy. They wanted to ask my reaction to that.)
HS: Did you think it was the right thing to do given that the comment was taken out of context and had caused controversy? I just wondered if you have any thoughts about that?
Simon: Only the churches are thinking about their public statements and how best to communicate via online. And with things so easily being able to be taken out of context, or misunderstood, it's important to make sure that the message is being communicated rightly. I think churches across the whole of Australia at the moment are thinking about how, if people want to try to find dirt on you, how they'll be searching through nine years' worth of sermons to find one line. I think a lot of churches are thinking about their online presence and how best to make sure that they're not misrepresented or misunderstood.
HS: Sure, would you say personally, that you support that this was a good approach for them to do that and as sensitively as possible?
Simon: Yeah, I don't think they're going to be shy about their position on abortion or sexuality. Their name is "City on a Hill"! You know? I think they're just thinking through how best to do it wisely.
---
Here is the article that they quoted me in. It was posted in the Herald Sun newspaper on Friday 7th October 2022.

(256)